Since 1997, Eco-Transformation is one of the French leaders in wood waste conversion.
It specialises in collecting, sorting and processing wood waste.
With our industrial facilities in the French Landes region, this wood waste is processed to become a new raw material. It will then be integrated into the manufacture of particle boards, supply boilers with biomass energy and much more other innovative applications.
135,000 tonnes of wood per year, all qualities combined, are recycled and enhanced this way.
Eco-transformation has been innovating and investing regularly in order to improve its industrial facilities. Its manufacturing equipment includes a complete transformation and recycling line including optical sorting.
Mobile teams made up of wood shredders, loaders and experienced staff perform numerous grinding, refining and screening performances at the various sites of the company, but also in the form of rental service directly at customer location.
Eco-Transformation is located in several departments of New-Aquitaine and Midi-Pyrénées regions. With seven operating sites, it offers a certain proximity to its customers, which, combined with the latest generation equipment, allows the company to process large tonnages and offer local value.
Its recovery waste channels have trusted Eco-Transformation for years by entering into long-term contracts.
25 years of experience in the wood processing and valuation 
A fleet of dump trucks
adapted to our activity
135,000 tonnes of waste
recycled and revalued each year
A close-knit and experienced team of collaborators for many years
Sites spread over the territory of New Aquitaine & Occitanie and equipped with state-of-the-art infrastructure
An industrial
site in the Landes
Customers all
over Europe
MANUFACTURERS
Wood packaging
recovery
LOCAL & REGIONAL AUTHORITIES
Provisioning with waste skips, shredding, disposing, and processing of classes A and B wood
PROFESSIONALS
Building professionals,
Waste collectors
Wood packaging recovery, construction, demolition, trimming
Big chain stores – Large-scale distributors
Provision of waste skips and collection
INDIVIDUALS
Collection and reception of wood waste
Eco-Transformation: the renewal
Transform wood waste and give it a second life: 
We collect, receive, sort wood waste and recycle it into a new raw material.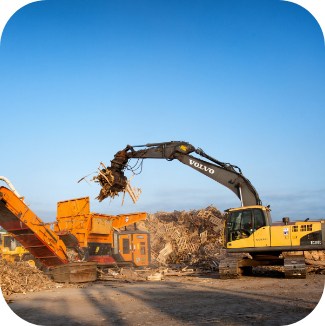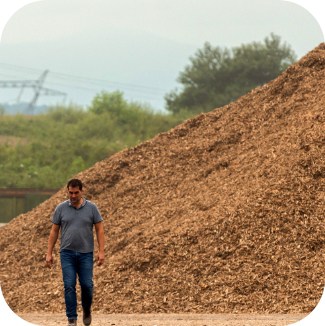 Know-how, innovation, Commitment
Know how through experience

Innovation through our machines and constant research

Commitment through the DNA of our activity and our projects
We contribute to the revaluation and innovation of the wood industry and we are a committed player for the environment.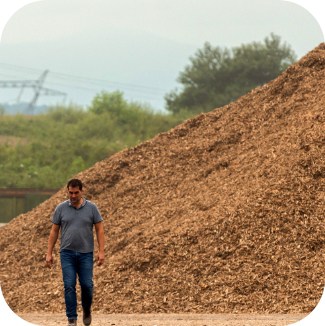 "At the start of our activity, Eco-Transformation finds meaning in the surrounding forests.
A tree symbolises life, the production of sap. It grows, strengthens itself on all sides. Its roots, like our teams, form our foundation, our strength and its branches represent our development.
This tree is also the essence of our business. Once transformed, used and at the end of its life cycle, in the state of waste, we take action. We organise its collection, sorting, process by shredding, cleaning, transformation and recycling. As a new raw material, it can be used endlessly!
Established in the Nouvelle-Aquitaine region, we have been contributing to the development, revaluation and innovation of the wood industry for 24 years. We process and recycle this wood waste, giving it a second life. We are committed in our daily lives and we offer you our expertise, our know-how and our solutions.
We thus preserve our forest resources in a virtuous system of circularity.
Eco-Transformation gives meaning to wood waste! "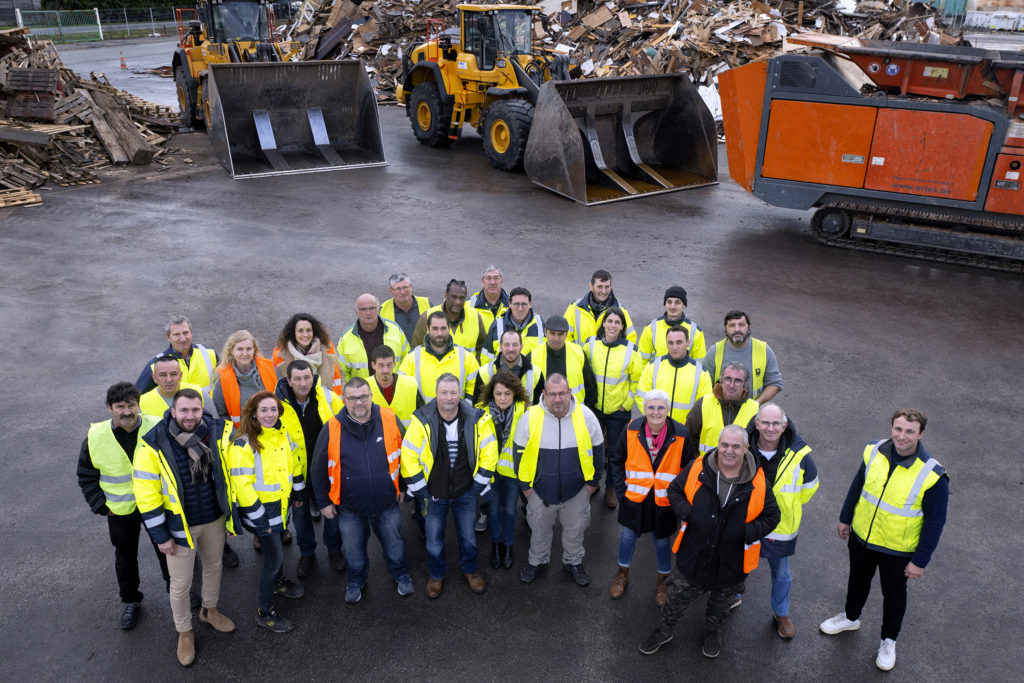 Eco-Transformation is first and foremost a human adventure!
Our team is our strength, our roots and it is thanks to her that we move forward.